Taipei Economic and Cultural Office in Los Angeles Economic Department Officer Wang Yu-hsin visited Taiwan exhibitors at AAPEX, in a show of their support of Taiwan's businesspeople. During the visit, Wang said the Taipei Economic and Cultural Office in Los Angeles services 8 states in the U.S., and encouraged Taiwanese companies to reach out to them for trade inquiries or demands.

LED maker J Mark Chairman Lin Yi-kuan said their firm is one of the top three light suppliers in the U.S., having spent six years entering the headlights industry geared towards emergency response and anti-terrorism vehicles. He said four years of their business revolved around meeting factory manufacturing specifications, and suggested to exhibitors to be patient; opportunities to enter the U.S. market are abundant, as long as their products can pass certifications,

First-time AAPEX exhibitor Gao Sheng Company General Manager Chen De-long said their company produces sheets made of hive-patterned plastic fabric, which is lighter than traditional steel plates by 30%. Originally a furniture company, Gao Sheng made the leap into automotive parts. Their products are most suited and geared towards vehicles looking to shave off some weight and improve efficiency, for example, extending power usage for electric cars, and improving gas-usage efficiency. Gao Sheng's innovative product became a popular inquiry among buyers as a result.

Fortuna Auto Industry Inc. features adjustable rearview mirrors, removing the possibilities of blind spots. Fortuna Auto Industry Inc. representative Lu Fang-jing is a 24-year veteran of partaking shows. Lu said their pre-show planning consisted of inviting buyers to visit their booth, which they believe can increase the chances of doing business. On the other hand, Hunt Power Co., Ltd. has brought safety equipment for vehicles, including air compressor, chargers, adaptors and more, effectively being able to offer a wider variety of products for customers.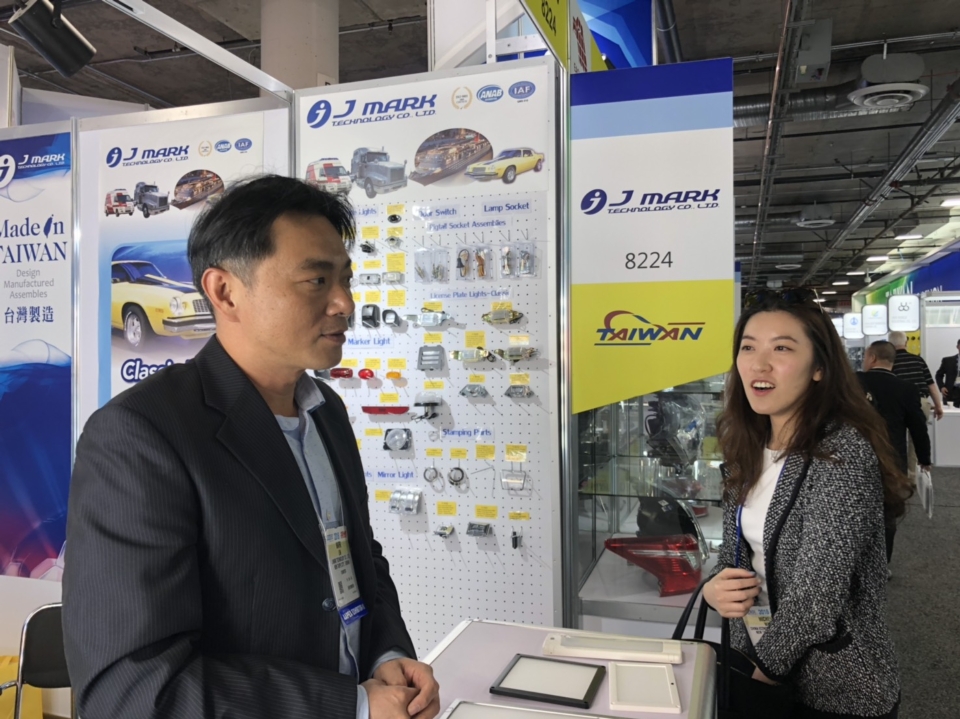 Taipei Economic and Cultural Office in Los Angeles Economic Department Officer Wang Yu-hsin, along with CENS.com members, visit Taiwan exhibitors at AAPEX. (photo courtesy of Hsiao Yung-le)