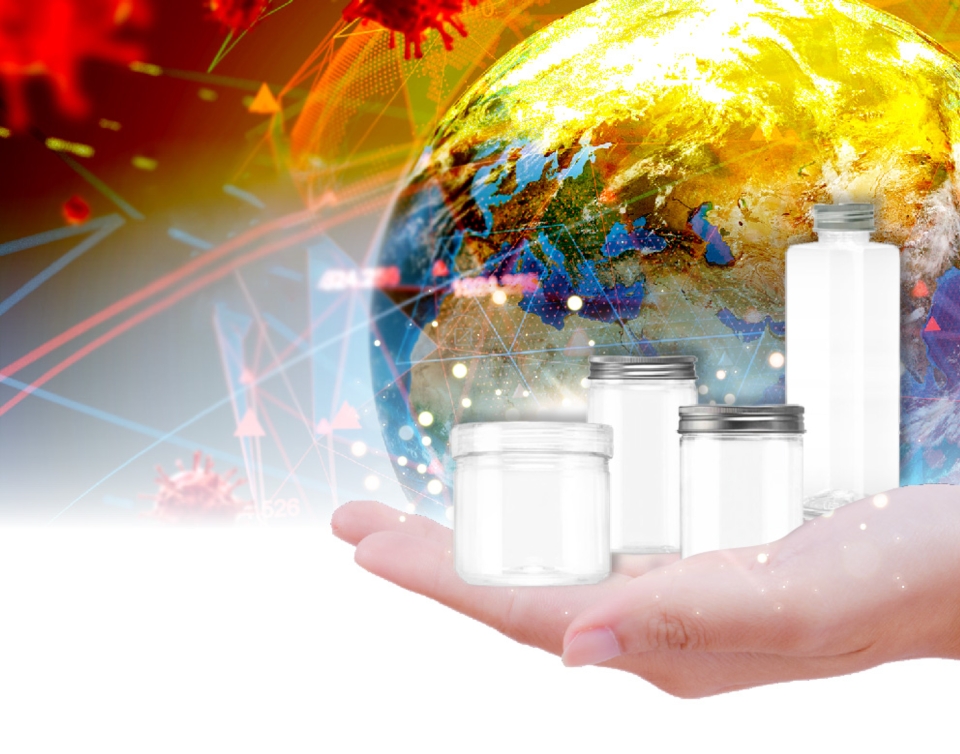 OVERVIEW
The spread of the novel coronavirus (SARS-CoV-2) has made a deep impact across all sectors. As health authorities and scientists around the world work towards identifying solutions to bring the situation under control, demand for Food Packaging solution has increased dramatically as consumers attempted to stay away from public gatherings. This has led to let food producers requiring more and more plastic containers to deliver food safely to the doors of families. Scientific studies led by Bureau of Microbial Hazards at Health Canada had found that human coronaviruses, including SARS-CoV-2, do not transfer from contaminated hands to plastic food containers. The US Food and Drug Administration (FDA) had also published statements that proclaimed there was no scientific evidence for SARS-CoV-2 transmission via contaminated food or food packaging. The findings were encouraging to Young Shang Plastic Industry Co., Ltd of Taiwan to boost its production capacity and at the same time to increase its responsibilities in order to take more precautions to guarantee the highest hygienic environment and the safest plastic containers for the food industries.
MILESTONES
Young Shang, which was established in 1969, has entered its 53 years of manufacturing experience and has so far export destinations to countries such as Australia, Belgium, Brunei, Canada, Fiji, France, Hawaii, Hong Kong, Indonesia, India, Jordan, Japan, Korea, Mexico, Malaysia, New Zealand, the Philippines, Portugal, Singapore, South Africa, Slovenia, Sri Lanka, Switzerland, Thailand, Turkey, UK, USA, and Vietnam. Along the way, the company became internationally recognized through various food certifications such as:
FSSC 22000, HACCP, ISO 9001, ISO 14001, ISO 22000, ISO 45001, and FDA/IMS.
NEW & TRENDY PRODUCTS
Cylindrical Jars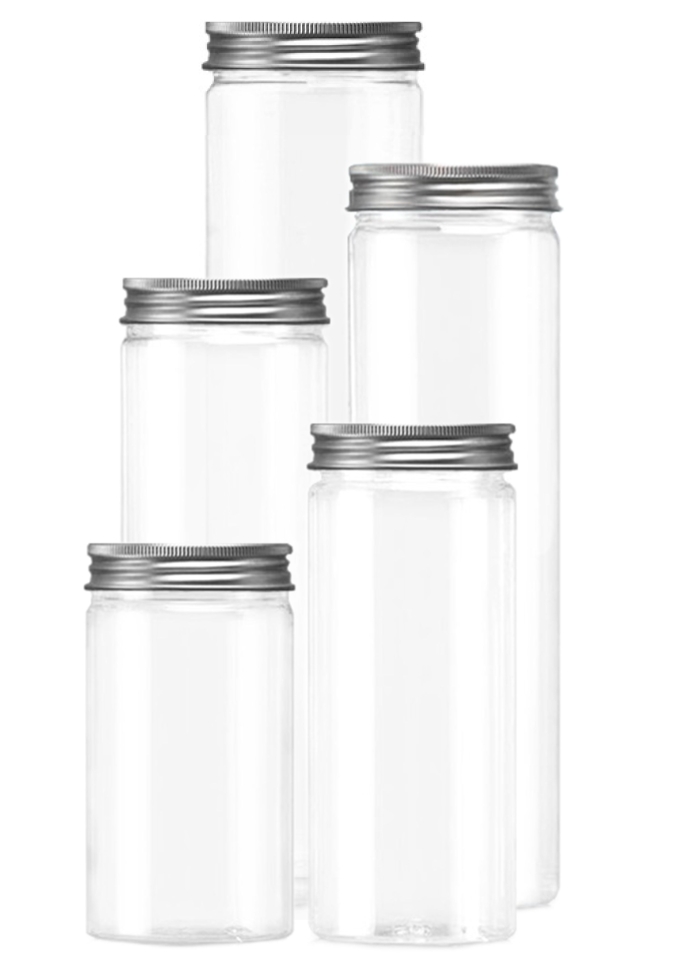 (Photo courtesy of Young Shang Plastic Industry Co., Ltd.)
The Cylindrical Jar is a popular for iced coffee, smoothies, and garnishes. Customers can easily enjoy using the jar's thin size, which fits in most cup holders perfectly, that is perfect for storage, crafts or serving beverages. Customers also like this jar for serving cocktails, home decor, and spice displays. Customers love this jar style as it takes up less space for storage due to its tall and slender nature.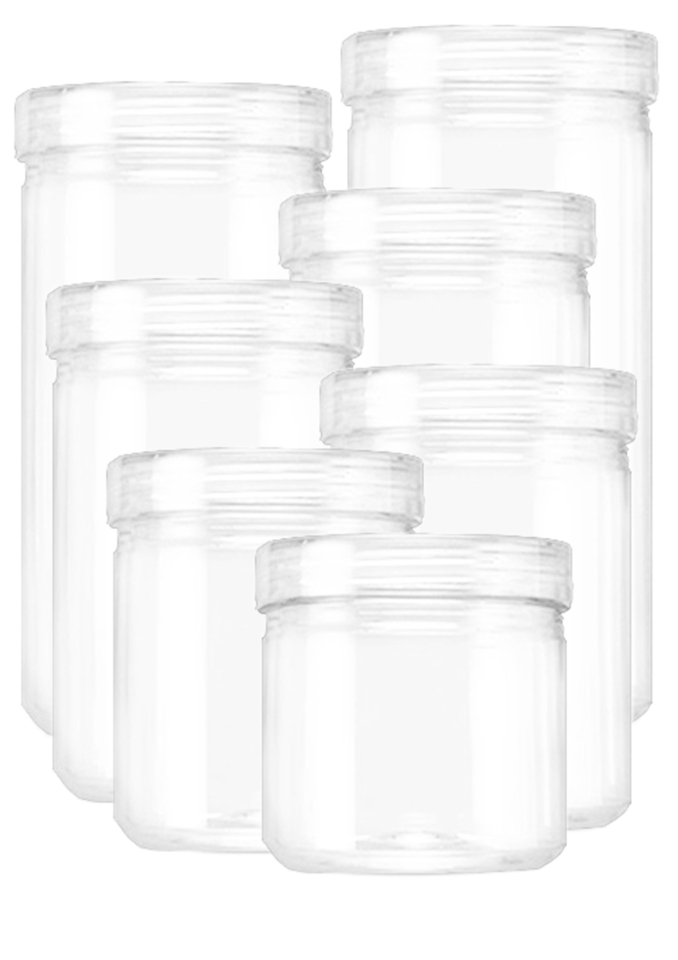 (Photo courtesy of Young Shang Plastic Industry Co., Ltd.)
The Crystal-clear PET Cylinder has quickly gained popularity globally, giving it great growth potential among Young Shang's product lineup. The cylinder comes with a large mouth (usually around 89 mm), large volume (usually around 1000 ml) and in various shapes (round, or square, or rhombus), making it a very good replacement for glass jars. Secondly, the 89mm neck is now an industry standard, which has standardized the production. Also, this size is a good fit for people to hold on to and can be widely used for household storage. As cylinder shapes can fill carton space completely, it is a better choice to reduce transportation cost, for labelling, and certainly suitable for high-end packaging application. Young Shang markets this product line best for large-scaled supermarkets, convenience stores, any individual shop ranging those offering cakes and cookies, for tea and scented tea, for grains and seasoning, for nut and dried food, and B2C E-commerce platforms.
Square & Thick Bottles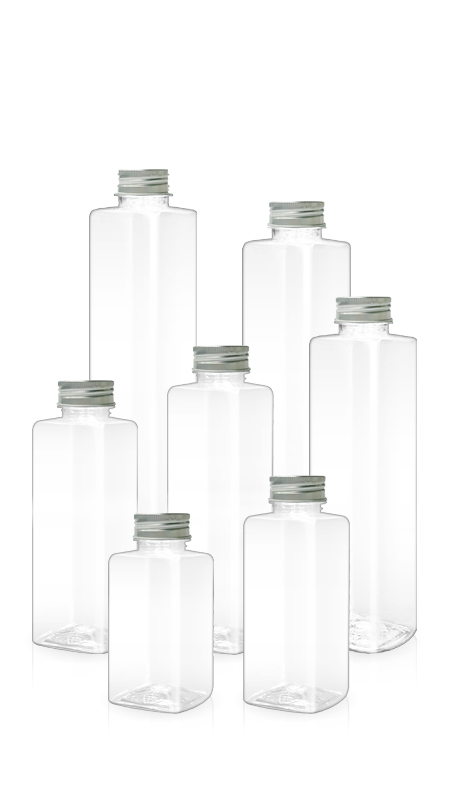 (Photo courtesy of Young Shang Plastic Industry Co., Ltd.)
The new square polyethylene terephthalate (PET) storage bottles are easier to handle, require less space (13-20%) on the shelf and are ideal for mixing, sampling and storage. The PET resin used is lightweight, break-resistant and comes in as transparent as glass material.
Features:
- Good for storage of media, buffers and other aqueous solutions
- Large 38mm opening provides easier access for liquid transfer
Besides for foods and beverages, these bottles are a great choice for cosmetics, hair care, or natural cleaning products.
P.E.T. CSD Jars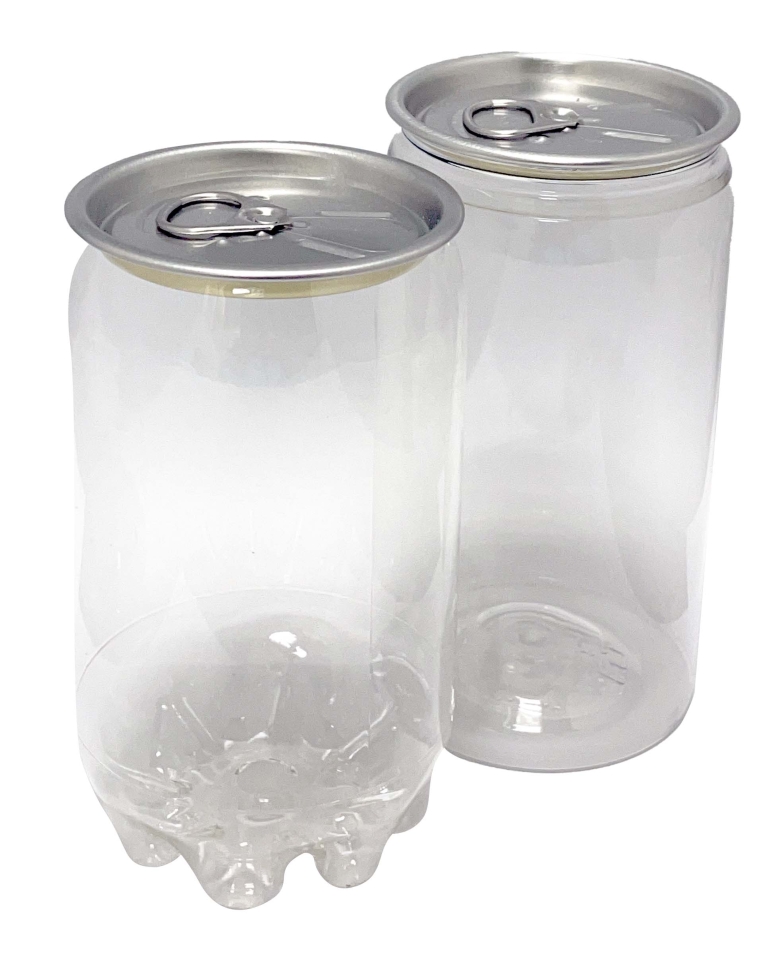 (Photo courtesy of Young Shang Plastic Industry Co., Ltd.)
Aluminum is extracted and refined from mined bauxite ore, however it is a complicated, costly and energy-intensive process, as it takes an average of 14,000 kWh of electricity to produce one tons of aluminum.
In terms of temperatures, P.E.T. can be produced and extruded at around 250-300°C. Aluminum smelting requires temperatures over 1,000 °C.
PET has the highest recycling levels of any of the six most common resins used in packaging.