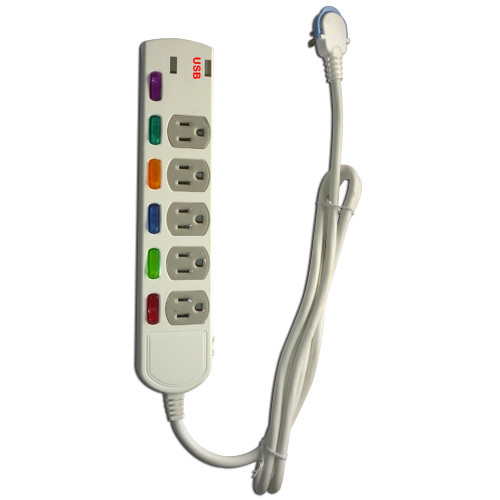 6-switch 6-socket PC USB extension cord (4ft)
Country of Origin:

Taiwan

Material:

Fireproof, heat-resistant PC
Detail Specifications / Descriptions
1. Overload protection/auto circuit breaker: Circuit breaker trips when overloaded. Turn off unneeded appliance. Wait one minute to press "RESET" to restart.
2. Independent circuit with illuminated switch: Each socket has independent circuit with illumination switch. No need to unplug when not in use to greatly save standby power and for safety.
3. Dual-insulation wire: National-standard 2.0mm2 15A cable ensures no electric leakage for safety.
4. Different-colored switch housing: Different switch-housing colors to easily identify electric appliances.
5. Outlet socket of PC: nonflammable, safer and more reliable.
6. Extra-low impedance & high power: Integrated, connector-free circuitry minimizes impedance to raise supply efficiency.
7. Super-thin flat plug with pull ring: Stays close to walls to avoid wire from being pulled, twisted to cause fire hazards.
Easy and fast operation: L-type, super-thin design to save space and enable easy unplugging by pulling ring.


Voltage: AC 110V/60Hz
Capacitance: AC125V/15A/1650W
Temp range: -20~+90℃
Sectional area of conductor wire: 2.0mm2 (x 2)
Output socket: AC 110V, Tri-polar power outlet x 5
Overload protection: 15A fuse-less auto switch

Charger output voltage: DC 5V
Charger output current: 2000mA max.
Two USB-type output terminals (15A)

* Specs customizable; OEM and ODM orders welcome!