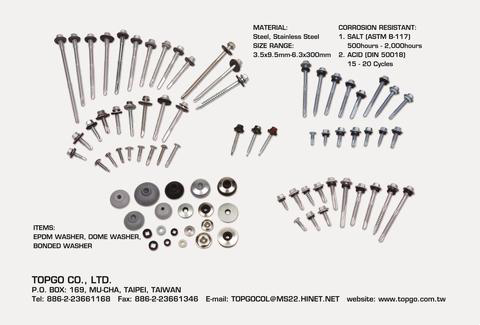 Taiwan Self Drilling Screw, Self-Tapping Screws, Taiwan Roofing Screws, Bi-Metal Self Drilling Screw
Country of Origin:Taiwan Material:Carbon Steel, Stainless steel, Brass Color:Black, White, Red
Detail Specifications / Descriptions
PRODUCTS :
Self-Drilling Screw, Self-Tapping Screw, Roofing Screw, Bi-Metal Self-Drilling Screw, Bi-Metal Self-Tapping Screw

MATERIAL :
Steel (C-1018, C-1022), Stainless Steel (SS304, SS410)

SIZE :
*Diameter : 3.5mm – 14mm
*Length : 12.5mm – 300mm
*Points : PT. 1, PT. 2, PT. 3, PT. 4, PT. 5, TYPE 17 Tapping, Wing Teks

HEAD STYLES :
Wafer, Pan Framing, Hexagon Washer Head, Hexagon Washer Flange

HEAD RECESS :
Phillips, H.W.H., H.W.F. Undercut, Serration

WASHERS :
*EPDM #10, #12, #14, Non-conductive
*Bonded Washer : #10x14, #12x14, #12x16, #14x16, #14x19

COATING CORROSSION RESISTANT :
*Pass SGS Salt Test : 1,000 hrs., 1,500 hrs.
*Pass SGS Acid Test : 15 cycles, 20 cycles

SHIPMENT :
75 days – 80 days fast delivery

PRODUCTS CERTIFICATES :
*SGS Test Report No. KV18-08042 Date : Oct. 24, 2018
*SGS Test Report No. KV18-08044 Date : Oct. 24, 2018


Topgo Co., Ltd. was founded in 1996 major in Export and Import business. Markets are in North America, China, Europe, Middle East, South-East Asia and Taiwan. We have built a solid reputation on excellent product quality, reliability, and affordability. Efficiency, Innovation and Reliability are the spirit of company. Topgo is growing and developing to offer the best services to the world. We welcome any OEM / ODM inquiries.
Send inquiry to this company