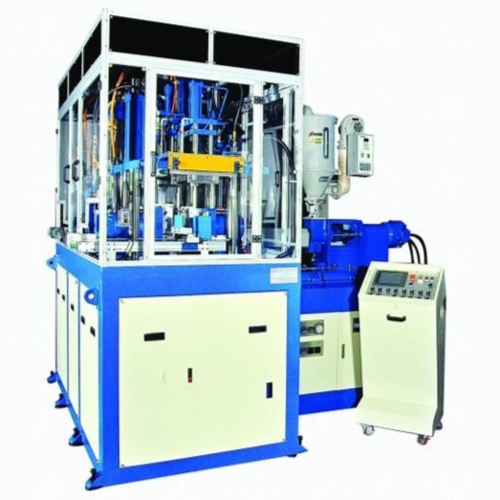 PET Stretch-blow Molding Machines
Model:BT-D Series
Detail Specifications / Descriptions
Model BT-D is a non-servo linear moving design with 2 slide tables (neck plates). Tables move back and forth between injection station and blow station to carry preforms and bottles. After one machine cycle tables interchange workstations to continue next cycle. Model BT-D has no servo system hence is an economic design, the best choice of all.

As comparison to other 3-station and 4-station designs BLOWPLAS' 2-station process needs least neck cavities and has more effective mold width, it means big saving in tooling cost. It is well known that mold cost is an important issue, the tooling/mold cost in our system no wonder is the lowest.

Model BT-D is fully computerized with touch screen providing friendly interface to operators.

BLOWPLAS offers 2 , 4, 6 and 8-cavity blow mold designs to customers. BT-D series are the best solution to diversified and low volume products such as cosmetics, shampoo, pharmaceutical, agriculture containers and wide-mouth jars.

Model BT-D is available in 3 sizes with mold width 360mm, 480mm and 590mm.

Preform temperature is conditioned in injection mold, no extra heaters required which could save huge energy consumption. There is no chain or servo rotate table needed for preform transferring, machine moves linearly (up and down, back and forth), just simple and reliable.

The average output per blow cavity is 200-250 BPH , for example

400-500 BPH for 2-cavity , 800-1000 BPH for 4-cavity and 1600-2000 BPH for 8-cavity.

Product weight plays an important role to the machine output as well as the cycle time..
| | |
| --- | --- |
| Company: | BLOWPLAS TECHNOLOGY CO., LTD. |
Send inquiry to this company