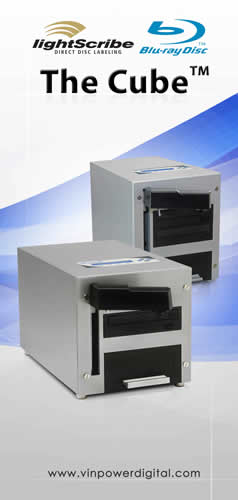 Model:CUB Material:Steel Color:Silver Gray
Detail Specifications / Descriptions
Made in Taiwan Designed in USA


Do you have occasions where you need to make a few quick copies of a project but didn't have the time to run them through your computer or on a manual tower and didn't have the budget for the larger robotic duplicators? The Cube™ is the perfect solution. With a small manageable footprint not much larger than a shoe box, The Cube™ fits in any office or cubicle and works unattended to make up to 25 copies per run. Plus at an incredibly low price point, The Cube™ fits nearly any budget. With 25 disc capacity and 1 or 2 recording drive, The Cube™ gives you the ability to work on other matters with the confidence that your project will be duplicated quickly and reliably without breaking the bank. The Cube™ is small but mighty. In addition, these models are available as Blu-ray duplicators or with the added LightScribe labeling capability.

The upgraded Blu-ray models allow the user to duplicate Blu-ray discs in addition to CD and DVD discs. With the large amount of data capable of being held on a Blu-ray disc, (25GB SL or 50GB DL), the duplication time is quite a bit longer than standard CD or DVD discs. That's why an autoloader really pays off so that you can set up your job and walk away until it's finished instead of sitting in front of a manual tower switching discs after each duplication run. Plus at a price similar to manual tower Blu-ray duplicators, it's the smart choice for your wallet as well.
Send inquiry to this company