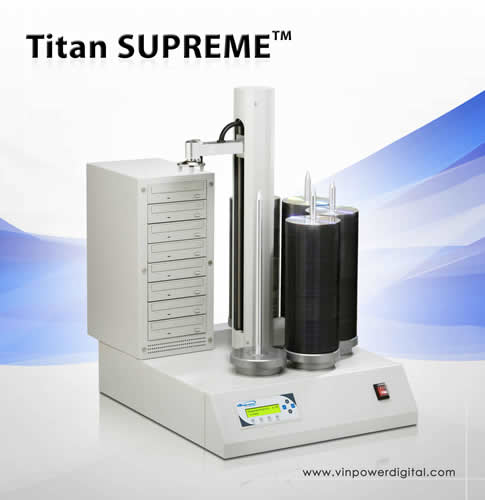 Model:SUP Material:Steel Color:Beige/Black
Detail Specifications / Descriptions
Do you need an autoloader that can hold up to the pressures of your high volume 24/7 work environment? The TITAN SUPREME is an Industrial Strength large capacity robotic CD/DVD autoloader duplicator. When your business requires the added edge in overnight continuous duplication with the highest degree of reliability and functionality, the TITAN SUPREME is the answer. This unit is the most robust in our line of autoloaders and is specially designed to perform under the most grueling of continuous duplication conditions. With a revamped robotic arm and spindles that never need to be realigned, the autoloader will provide years of faithful continuous operation. The Supreme offers all the exceptional abilities of our TITAN series with a more modular design for easier hardware upgradeability and maintenance in the future. Meaning, any upgrades, modifications, or repairs can be performed quickly and easily so that the unit is back in production with minimal downtime. The TITAN SUPREME comes with 1000 disc capacity and configurations of 4, 6, or 8 drives to maximize your production. In addition, these models are available as Blu-ray duplicators or with the added LightScribe labeling capability.

The upgraded Blu-ray models allow the user to duplicate Blu-ray discs in addition to CD and DVD discs. With the large amount of data capable of being held on a Blu-ray disc, (25GB SL or 50GB DL), the duplication time is quite a bit longer than standard CD or DVD discs. That's why an autoloader really pays off so that you can set up your job and walk away until it's finished instead of sitting in front of a manual tower switching discs after each duplication run. Plus at a price similar to manual tower Blu-ray duplicators, it's the smart choice for your wallet as well.

The LightScribe capable models allow you to turn your autoloader into an instant standalone "publishing" system. Once you load the LightScribe label file onto the autoloader's hard drive, you can perform the duplication process, then when that's done, turn all the discs over onto the input spindle(s)/bin(s) and start the LightScribe printing process for a finished disc complete with a label. The best part, there's no expensive ink or ribbon that needs to be replaced frequently, so your per disc cost is greatly reduced. Instant duplication and labeling all in one system at a price and convenience that's unmatched.
Send inquiry to this company