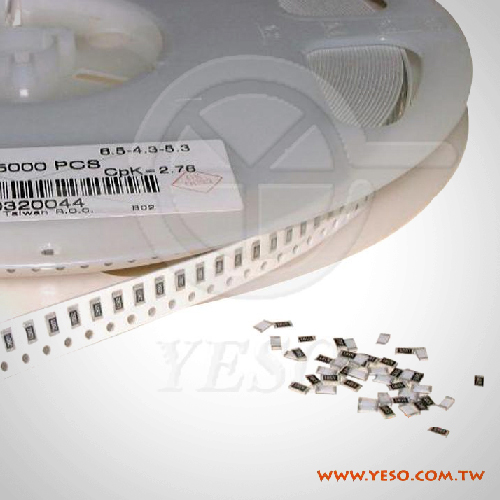 RC Thick Film Chip Resistors
Model:CHIP SeriesRC Series
Detail Specifications / Descriptions
Chip resistors are made by depositing high-quality metal thick-film conductor on high-purity aluminum oxide ceramic substrate and then applying a layer of glass protective coating to produce uniform quality and stability.

Features:
Miniature size suitable for compact P. C. boards of high-precision electronic products.
8mm taped packaging suitable for automatic surface mount.
Excellent stability and reliability.
Low assembly costs.


‧Package Type: Tape & Reel,Tape in Box,Bulk
‧Effects of Soldering: 1%
‧Type: Fixed Resistor
‧Electrode Solder Ability: above 95%
‧Load Life: 3%
‧Intermittent Overload: 3%
‧Short Time Overload: 1%
‧Temperature Coefficient: 100,200PPM
‧Resistance: 1~10M ohm
‧Resistance Tolerance: 1%
‧Rated Power: 0.0625W~1W
‧Technology: Thick Film
‧Place of Origin: Taiwan
‧Brand Name: YESO
‧Model Number: RC



| | | |
| --- | --- | --- |
| | CHIP Resistors | RC Thick Film Chip Resistors |
Company:
YWH CHAU ELECTRIC CO., LTD.
Address:
No. 14, Lane 46, Yea-Jou Road, Tu-Cheng Dist., New Taipei City, Taiwan 236
Telephone:
886-2-2269-0962, China: 86-512-6327-3868
Fax:
886-2-2269-3427, China: 86-512-6327-3808
E-Mail:
URL:
www.yeso.com.tw
www.cens.com/ywhchau

Send inquiry to this company