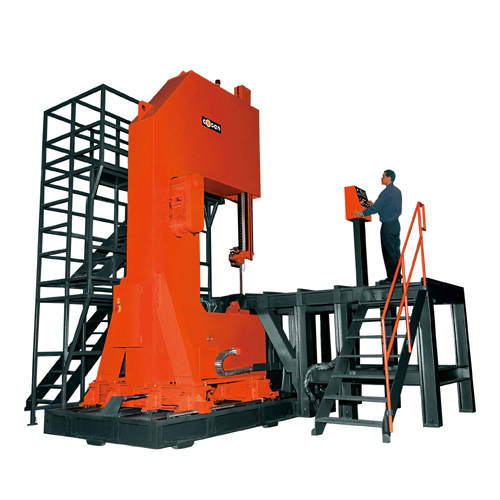 Traversing Head Vertical Plate Saw
Model:SVC-170150H
Detail Specifications / Descriptions
1. Hydraulic positive feed saw frame with adjustable feed rate and cutting pressure control. Variable feed rate valve and pressure control valve enable optimal cutting performance in any material.
2. High strength saw frame travels on three linear rails ensuring machine rigidity and prevents vibration from cutting.
3. The Blade Drive System for the saw blade comes from a 20 hp motor through a power effective high precision Planetary Reducer. Meanwhile, blade speed is controlled by a highly efficient inverter. These specially built mechanisms combine to offer an extensive speed range, which is easily adjustable on the control panel.
4. Fixed Work Bed provides maximum structural integrity and work load allowance. Additional support tables are available for oversized material
5. Powered Guide Arm is hydraulically controlled from the operator's station, allowing the operator to move the carbide guides as close to the material as possible. Cylinder stroke is 1200mm.
6. Hydraulic powered wire brush system featuring adjustable speed to effectively clean and prolong blade life. Hydraulic motor featuring long usable life does not burn up in case of binding or overload situation.
7. Remote control panel for convenient and safe operation

OTIONAL ACCESSORIES
1. Hydraulic Chip Auger features 2 stage design to efficiently evacuate metal shavings to accessible area. Auger speed is adjustable to allow coolant retention. Hydraulic motor featuring long usable life does not burn up in case of binging or overload situation.
2. Laser Alignment Beam Light is very useful in insuring cutting accuracy on long material cutting. The laser beam shines on the material allowing the operator to align the material to the cut width desired.
3. Vibration Damper can effectively reduce blade vibration and enables smooth cut-off surfaces.
4. Blade Deviation Detector will detect any blade deviation to insure straight cuts. The device can be pre-set to a deviation value. If the value is exceeded the machine will stop.
| | |
| --- | --- |
| Company: | COSEN MECHATRONICS CO., LTD. |
Send inquiry to this company