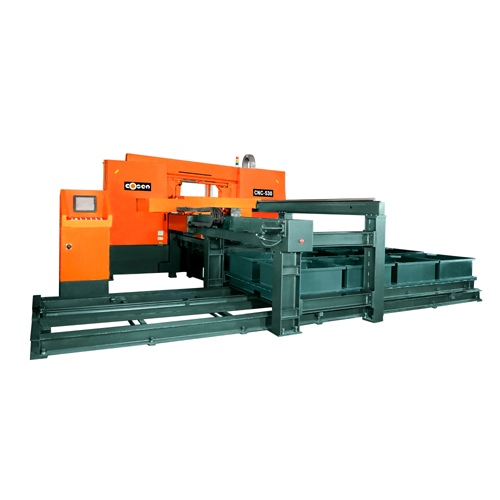 CNC-530 Bandsawing Machine
Model:CNC-530 sawing system
Detail Specifications / Descriptions
CNC 530 Sawing System
This sawing system was made up by 6 units including CNC 530 bandsawing machine, magazine bar-feed system, marking system, rest-piece system, long piece storage and short piece sorting.

CNC 530 bandsawing machine
Option-Magazine Bar-feed system
Option-Marking system
Option-Rest-piece system
Option-Long piece storage system.
Option-Short piece storage system

Magazine Bar-feed system
This system including two set of working table. There are four chains for the feeding and drive by sevo motor for precise position. This makes material easy to move into power roller table. The size is 6.3 m x 2 m each set and several storage space with different width in order to insert and store material stably. (Diameter 30-450m/m, length 1m-10m)

Marking system
Marking machine is installed right next to working bed. It can recognize and organized the material after cutting. If necessary, marking on material with different code at the first place, that way will be easy for next process and quantity control.

Rest-pieces System
When the material is sent through power roller, feed vise start working automatically and also processing trim cut or first cut. After cutting, remaining material within 0.1m will stay in rest-pieces system, within 0.1m~0.6m will shift to long piece storage system and over 1.6m long material will send back to Magazine Bar-feed system.

Long Pieces storage system
This system is the storage for finish part or remaining material which size within 0.6m~1.6m. This storage table size is 3m x 1.6 m.

Short piece storage system
This system is including a robot feeding gripper, feeding devices and 10~16 different size of baskets. The baskets can circumrotate anytime in case the basket is full or different size basket. This will help sorting process and save labor.
| | |
| --- | --- |
| Company: | COSEN MECHATRONICS CO., LTD. |
Send inquiry to this company