Founded in 1975 in Taichuang, A-Tina Tools Co., Ltd is an industry leader in Hand Tools. With around 45 years of manufacturing experience, it can provide customization in accordance to client requirements. The company offers various tool cases in materials such as hollow molding in plastic, aluminum, iron and nylon and a wide variety of tool kits for different project purposes, including Auto repair, Power Drill Accessory, cutters, wrenches, pliers, and Hand Tool Kits, Mechanic Tool Kits series.

Currently, the firm, has operational headquarters in Taiwan and established Shanghai MingXin Plastic Co., Ltd. A manufacturing base, in Shanghai in 1992. Also in 2020, Jiashan A-Tina Technology Co., Ltd begins operations to serve more clients around the world.

With exceptional R&D capability, the company launches New products to the market every quarter since they believe "New Item is the key to the future". A-Tina has also obtained numerous local and international patents in the U.S. and Europe for its thousands of innovations. Plus, the products are made in compliance with international standard MIL-STD-105E and ISO 9002 certified and also covered by USD$2 million in Product Liability insurance. For more informations, please contact them through phone call or e-mail.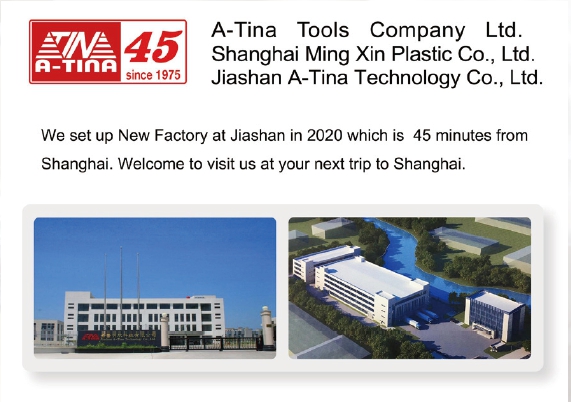 A-Tina Tools Co., Ltd.
No. 128 Qingliang Avenue, Yaozhuang Town, Jiashan County, Jiaxing City, Zhejiang
Tel: +886-4-2687-7177
Tel: +86-573-84772689
Email: sales1@tonytinatool.com