Photo courtesy of Chung Ho Cheng
Chung Ho Cheng (CHC) Enterprise Co., Ltd. is equipped with the experience to develop professional tooling capabilities, having produced over 3,000 sets since its inception. As a hot, warm and combination forging factory, CHC offers wide-ranging services like heat treatment and surface treatment, producing IATF16949-qualified products. CHC is also a Tier 1 supplier for American electric vehicle maker Tesla. The manufacturer is a major supplier of iron, aluminum and copper forged products for hot forged parts like automotive parts (around 70%), scooter chassis parts, agricultural machinery parts, railway parts, defense parts, hardware tools, furniture and fire safety equipment. CHC is proficient in developing large-sized and unique, hybrid-typed parts, while offering innovative options for their clients through expanding their machinery fleet and optimizing management. For example, they have begun to incorporate the German manufacturing process simulation software SIMUFACT into their systems, allowing them to improve and expand their tooling technology for more precise and faster production.
In a bid to meet client demand, Chairman Lai Han-chung said they expanded their factory from the original 200-ping (661.157 square meters) to 10,500 ping (34710.744 square meters) through nine construction attempts, and equipped the plant with 11 production lines. The existing supply model was disrupted by the COVID-19 global pandemic last year, leading to a rapidly shrinking market. CHC took this opportunity to refurnish their plant with new equipment, and after assessment of future trends, they also added three new production lines as well, rounding up the total to 14 lines. Lai says the consideration is to strengthen CHC's production to handle low-volume, high-mix urgent orders, while maintaining their usual capacity.
Tooling development is CHC's core foundation, Lai says, emphasizing that their technology allows for producing 150g-53kg of various aluminum alloy, copper alloy, carbon steel forging, and alloy steel forged products. As CHC's technology and product quality improved, many of their products have found applicability in high-end industries such as medical care and aerospace. CHC is also working closely with the world's sixth largest steel mill, Taiwan Steel, receiving a quota of 300 tons of steel each month to ensure the firm's continual supply of steel materials and high-quality products for clients. CHC keeps a close eye on their production process: from the initial stages of raw materials to monitoring factory production. The company is also diligent in planning ahead, as they keep 4,000 tons of raw materials in storage to meet varied production schedules, enabling them to meet their monthly production forging quota of 800 tons of steel and 300 tons of aluminum alloy.
To streamline the production process, clients can also provide CHC with their product images, samples or 3D models of forging embryo designs or scanning samples to create 3D files, and design molds through CAM and CNC. Once the mold is finished, CHC will manufacture samples, sending them through a three-dimensional measuring bed to clarify whether measurements meet clients' demands. If the orders are OEM parts, the firm can verify the orders through standardized procedures for operation, inspections, failure mode analysis, and monitoring plans before obtaining approval for mass production.
SIMUFACT helps the firm analyze the process of metal usage in tooling production, from extrusion bar metal materials to completed forging products, as well as approval of entire production processes of raw material properties before forging. The streamlined process allows the firm to guarantee improvements to their cost management and utilization of raw materials, cutting back on pre-production preparation, and most importantly, to achieve on-time production and delivery.
With more than 30 years of experience in tooling design and a full understanding of raw material properties, CHC can easily optimize their new product design development as a top auto firm supplier. As the team has a strong background in diverse product production and CAE application, the company's R&D department can help clients design new auto parts from scratch by applying high-precision technology and provide the most cost-effective solutions to meet customer needs. Currently, CHC serves buyers around the world, ranging from North, Central and South America, Europe, and Asia.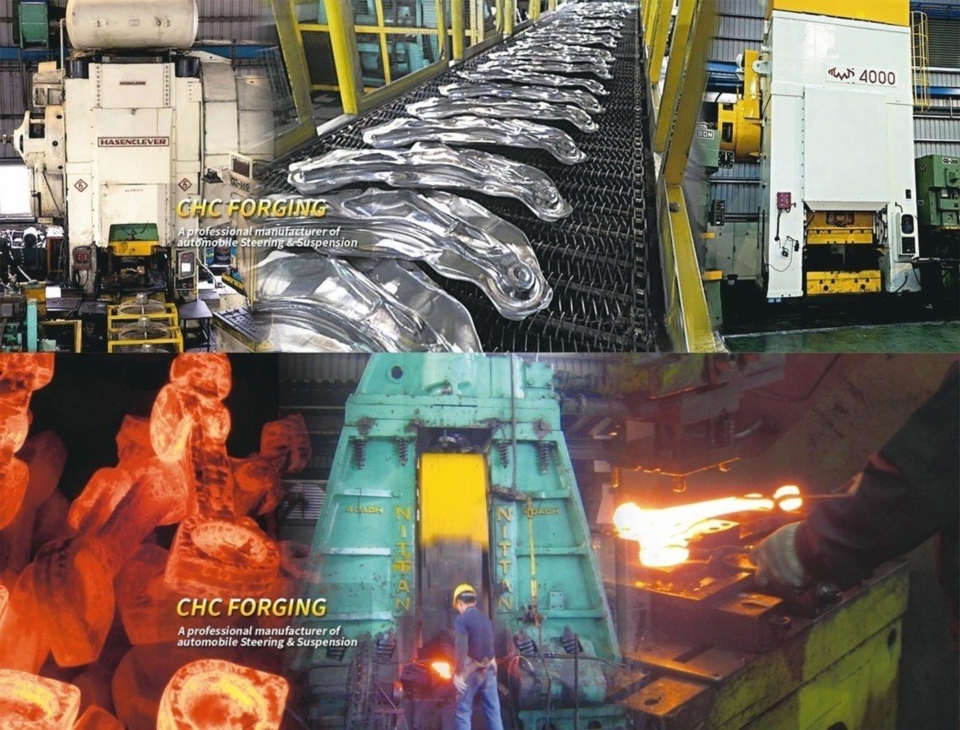 Photo courtesy of Chung Ho Cheng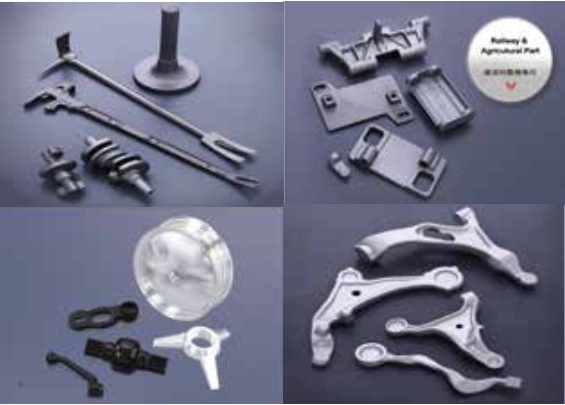 Crankshaft axle and safety tools (Photo courtesy of Chung Ho Cheng Enterprise)
CHUNG HO CHENG ENTERPRISE CO., LTD.
No.67-23,Ln.854,Sec 1, Shatian Rd, Dadu Dist.,Taichung City 432, Taiwan
Tel: 886-4-26982246
Fax: 886-4-26981852
E-mail: chc@chc-forging.com
Website:
http://www.chc-forging.com