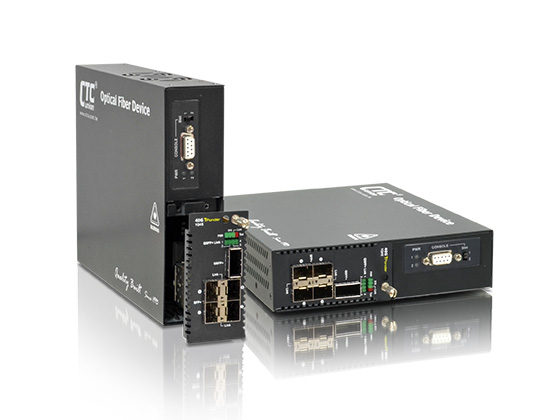 40G Transponder - FRM220-40G-1Q4S
Model:FRM220-40G-1Q4S Country of Origin:Taiwan
Detail Specifications / Descriptions
Description

he FRM220-40G-1Q4S is a 40G QSFP⁺ to 4x 10G SFP⁺ transponder that provides media conversion and distance extension for 40G over 10G links. The FRM220-40G-1Q4S meets the growing need for more bandwidth for data centers and enterprises. The emergence of high-end servers and Ethernet switches with 40G Ethernet interfaces increases the need for media conversion (multi-mode to single-mode) and link range extension. The FRM220-40G-1Q4S is a two slot wide hot-swappable card with one QSFP+ slot for QSFP⁺ 40G transceiver and four SFP⁺ slots for SFP⁺ 10G transceivers. The installation and setup is simple plug and play. The FRM220- 40G-1Q4S can be inserted into any powered FRM220-CH20 chassis with QSFP⁺ and SFP⁺ transceivers required for the application.


Features

▪ Network Management via FRM220 Chassis
▪ Multiple functions in one module: 40G converter/repeater and Quad 10G optical multiplexer
▪ 40G link interface --Ethernet/IEEE: 802.3ba 40GE-LR4
▪ 40G multi-link (fiber) interfaces -- Ethernet/IEEE: 802.3ba XLAUI and OIF: CEI-11G
▪ QSFP⁺ ports for flexibility and scalability
▪ Hot-swap support (module and interfaces)
▪ Supports 1x 40G QSFP⁺ and 4x 10G SFP⁺
▪ Supports DMI function for QSFP⁺ & SFP⁺ module
▪ Supports Loopback test function
▪ 3R function.
| | |
| --- | --- |
| Company: | CTC UNION TECHNOLOGIES CO., LTD. |
Send inquiry to this company
Customers who viewed this item also viewed