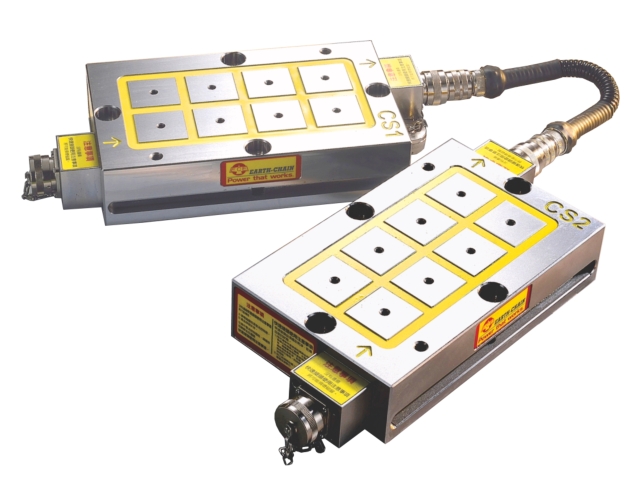 Electro-Permanent Magnetic Chuck
Model:EEPM-CIT Country of Origin:Taiwan
Detail Specifications / Descriptions
Suitable in use for combine with CNC 4 Axis Index Device
1. Super power magnetic force 1000kgf / 100cm2. (4 Poles)
2. Control each working face for ON and OFF, so it can be load and unload the work piece on each working face. 3 seconds control for power ON and OFF.
3. EEPM-CIT2F with 2 magnetic working faces can be clamp 2 work piece for machining. Suitable for bigger work piece machining.
4. EEPM-CIT2F2T with 2 magnetic working face and 2 T-slot working face, can be clamp both of magnetic and non-magnetic material of work piece machining. Suitable for smaller work piece machining.
5. EEPM-CIT4FT with 4 magnetic working face and T-slots available. Suitable for smaller work piece machining.
6. Without any obstructed movement of cutters during machining. Can be use all the functions of CNC 4 Axic Index Device completely.
| | |
| --- | --- |
| Company: | EARTH-CHAIN ENTERPRISE CO., LTD. |
| Telephone: | 886-4-2630-3737 |
| Fax: | 886-4-2630-3636 |
Send inquiry to this company
Customers who viewed this item also viewed